Help is needed on 1st Sundays during Children's Church, if interested, please let the church secretary know by calling 648-9290.
Mission: To bring children to Christ and train them to walk and minister in the power of the Holy Spirit.
FOCUS:
To expose our children to the total worship experience which will prepare them for participating in the worship service in the church sanctuary. The children participate in singing, prayer, scripture, and lessons. Activities are incorporated to stimulate each child's participation. The children attend Children's Church in two groups:
Preschool-Ages 3-5
Elementary/Middle School -Ages 6-12
ORGANIZATION:
The Children's Church Ministry Team is divided into sub-teams; each sub- team is responsible for a specific Sunday. For planning purposes, the Children's Church session is designed for one hour in duration. The children are dismissed from the sanctuary at approximately 10:45 a.m.
CALENDAR:
The 2018 curriculum is "The Bible In One Year". Quarter 4 begins August 19, 2018
ENHANCEMENTS
A Children/Youth Retreat at a camp facility (educational and fun)
Trips
Participation in Operation Christmas Child (Mission)
Participation in Recruitment Sunday
EQUIPMENT:
Computer projection for CD-ROM and DVD presentations
Portable puppet stage and puppets
The 13th Pastoral Anniversary for Rev. TC Edwards was held on Sunday, March 18, 2018 at 2:30 pm. Rev. David R. Williams and the Union Baptist Church of Aiken was the guest speaker and church.
By HALEY HUGHES, The Aiken Standard
Monday, January 18, 2010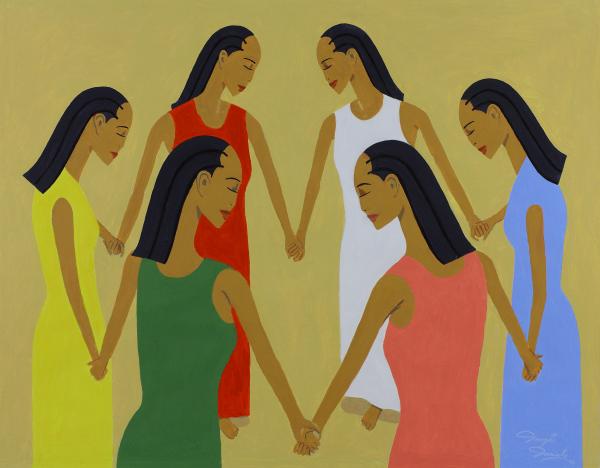 Friendship Batist Church–The women of Friendship Baptist Church recognize the bond between sisters is unbreakable, even if they don't know what their sister's favorite TV show is.
Multiple sets of sisters gathered at the church Sunday in "Always Sisters, Always Friends," which celebrated the love of sisterhood and helped encourage the siblings to strengthen the connection between themselves and with Christ.
At least one sister of each set attends Friendship Baptist Church.
"There is nothing like the bond between sisters. Ladies, we've got to stick together," said church member Donna Moore Wesby. "Children would come up and speak with me after church, and God just placed it on my heart when I realized that most of them were sisters. After further investigation, it appears our church has nearly 25 sister families. We are sisters not only in blood but also in Christ."
But the sister sets soon learned that they may not know everything about each other.
Three pairs of sisters were called to the front of the room to play a version of "The Newlywed Game." One sister from each pair was sent out of the room while the others answered questions about their siblings that touched on details like favorite TV show, favorite color, memorable moments and romantic relationships.
The absent sisters were then allowed back in the room.
"What is your favorite TV show?" Wesby asked.
"'CSI: Crime Scene Investigation,'" Vernice Grant Moore said.
"I said 'The Bold and the Beautiful,'" sister Jeanette Grant Coleman said.
"Oh, yes. I like that one, too," Moore chuckled.
Moore and Coleman and sisters Doris McManus Freeman and Juanita McManus Robinson proved to be no match for twins Ebony and Ivory Kennion.
The Kennions walked away with the highest score, though their victory had its share of laughs, too.
"What is one thing you could change about your sister?" Wesby asked Ebony.
"Her attitude," Ebony answered.
"I do not have an attitude," Ivory exclaimed.
Coleman said, when she first moved to Aiken, she and her sisters were very much like fric and frac, though now they get along very well.
"My sisters Vernice and Maxine epitomize unity. Our mother instilled in us togetherness, love and unity to keep us together," Coleman said.
Children's Church
Lessons for November8-January 31, 2010
Unit 1   In The World

Lesson 1           Living for God

Power Point: God wants me to live for him.

 Lesson 2           Living for Others

Power Point: God wants me to care about others.

Lesson 3           Used by God

Power Point:     God can work through me.

Lesson 4           Doing God's Work

Power Point: I will do God's work in our world.

 

 Unit 2   Above the World

Lesson 5           Peer Pressured?

Power Point: God helps me overcome peer pressure.

Lesson 6           A Forgiving Heart

Power Point: I will forgive because I've been forgiven

Lesson 7           Loving the Unlovable

Power Point: I will bless even those who do wrong to me.

Lesson 8           All Around Us

Power Point: How I live affects others around me.

 

Unit 3   For The World 

Lesson 9           It's All About Jesus!

Power Point: I will let Jesus show me the way.

Lesson 10         Word Victory

Power Point: God's Word gives us power over the devil.

Lesson 11         Standing Strong

Power Point: I will stand strong against sin.

Lesson 12         God's Direction

Power Point: I will trust God's direction for my life.

 

Review Living My Purpose 

Lesson 13         The Main Event!
September 2009

The study this quarter focuses on God's covenant
as manifested in communities. It highlights persons
God chose as covenant leaders, the invitations God
offered to enter into community, people's responses
to the invitations, and the nature of God's new
covenant community.
UNIT 1. LEADERS IN THE COVENANT
COMMUNITY
The four lessons in this unit look at four people—
Joshua, Gideon, Ezra, and Nehemiah, who were
called to lead the Israelites in living in covenant with
God.

Lesson 1: September 6, 2009
Joshua: A Leader for the People
Joshua 1:1–11; 16–17
God chose Joshua to succeed Moses as Israel's
leader. God's criterion for choosing Joshua was
based on Joshua's careful observance of the Law
given through Moses. God promised to be with
Joshua, and encouraged him to be strong, obedient,
and courageous.

Lesson 2: September 13, 2009
Gideon: A Deliverer for the People
Judges 6:1–3, 7–14
The Israelites were disobedient to God. As punishment,
God allowed them to suffer at the hand of
the Midianites for seven years. God then called
Gideon to deliver the Israelites. Gideon, an ordinary
person with feelings of inadequacy, was empowered
by God to complete the task. The story of Gideon,
the self-described weakest member of the weakest
family in Israel, demonstrates that God calls and
equips ordinary people to bring about extraordinary
changes.
Lesson 3: September 20, 2009
Ezra: A Priest for the People
Ezra 9:5–11, 15
Ezra leads the people of Israel in a prayer of confession
for their disobedience to God. Sin, wherever
it may be found, seems so prevalent that we often do
not know how to deal with it. What should be our
response to sin? The priest Ezra, who had opened his
heart and mind to God's teachings, diligently taught
the people the laws of God and responded to sin
among the Israelites by fervently praying for God's
forgiveness and grace.
Lesson 4: September 27, 2009
Nehemiah: A Motivator for the People
Nehemiah 2:5, 11–20
Nehemiah prayed for guidance and then sought
permission from the king to go to Jerusalem to
rebuild the temple. His actions motivated Jews to
help accomplish this task. Life's problems sometimes
threaten to immobilize us. Where can we find
encouragement to move in the right direction
again? The story of Nehemiah shows us that God
sends dedicated leaders who pray for change and
motivate people to move in God's direction.

UNIT 2. AN OPEN INVITATION TO
COVENANT LIVING
In these four lessons, stories are taken from the
book of Mark in which Jesus interacted with people
and invited them to live in covenant with God.
Lesson 5: October 4, 2009
Looking for Jesus
Mark 1:35–45
Because of people's recognition of His teaching
and healing, Jesus' ministry extended into all of
Galilee. We often seek out people we believe can
help us solve our problems. Where can we find such
people? The people of Galilee realized that Jesus
had the words of life and a healing touch, so they
went looking for Him.
Lesson 6: October 11, 2009
Recognizing Jesus
Mark 5:1–13, 18–20
Jesus encountered a man possessed by demons.
He delivered the man and cast the demons into a
herd of pigs. Afterward, He commissioned the man
to go out and share his story. At times, our problems
are so overwhelming and can cause such alienation
that we do not know where to turn. What help is
available? Mark's account of the Gerasene demoniac
demonstrates that Jesus is able to break the chains
that bind and isolate us, and bring us back into community.

Lesson 7: October 18, 2009
Begging to Get In
Mark 7:24–30
Jesus encountered a Gentile woman who believed
that He could heal her daughter who was possessed
by an unclean spirit. Though Jesus challenged her,
the woman persisted in her faith. We are sometimes
astonished by the faith and tenacity that people
exhibit. What motivates people to maintain such an
attitude? The woman of Syrophoenicia believed that
Jesus could heal her daughter, so she persisted
despite Jesus' challenging questions.
Lesson 8: October 25, 2009
Opting Out!
Mark 10:17–31
A rich young man asked Jesus what he must do to
inherit eternal life. Jesus instructed the young man
to sell all that he had, give to the poor and follow
Him. The young man was unwilling to do so and
went away sad. People wonder whether eternal life
exists and how they may obtain it. What leads to eternal
life? Jesus teaches that to become true followers
and inherit the gift of eternal life, we must submit
ourselves wholly (completely) to God.

UNIT 3. THE NEW COVENANT
COMMUNITY
These four lessons examine 1 and 2 Peter to discern
the qualities that people who are part of God's
covenant community possess.
Lesson 9: November 1, 2009
A Holy People
1 Peter 1:13–25
Peter teaches us to have holiness modeled after
God's holiness. The world is a sordid place where
people try to step up and over others in order to get
ahead. Why, then, should we want to become holy
people? Peter's first letter says that God's people
should be holy because God is holy.
Lesson 10: November 8, 2009
A Chosen People
1 Peter 2:1–10
Peter called the people to come together in faith
and form a new community. He taught that salvation
includes an ongoing process of being built into a
"spiritual house" where Christ is the foundation and
cornerstone. The people of God are called to proclaim
God's amazing deeds. The way we live sends a
clear signal about who we are and what we believe.
What distinguishes members of the Christian church
from other groups? Peter teaches that we are a "royal
priesthood," a "holy nation," whose purpose is to
declare God's mighty acts, as Peter did in Acts 4.
Lesson 11: November 15, 2009
A Suffering People
1 Peter 4:12–19
Peter teaches how Christians are to respond when
they suffer for the sake of the Gospel. Life tests us in
many ways. How are we to respond to the trials and
sufferings that come our way? Peter believed that
those who suffer as Christians are to rejoice as they
follow Christ, even as the apostles did when they
were arrested for teaching people about Jesus.
Lesson 12: November 22, 2009
A Faithful People
2 Peter 1:3–15
Peter teaches about the faith of a godly person
and the relationship between deeply rooted faith
and godly living. We all have faith in something or
someone, but we often find it hard to develop this
faith. How can we support and strengthen a growing
and effective faith? Peter's second letter teaches that
goodness, knowledge, self-control, endurance, godliness,
mutual affection, and love all undergird a growing
faith.
Lesson 13: November 29, 2009
A Hopeful People
2 Peter 3:1–13
To encourage them to endure through persecution,
Peter writes to persecuted Christians concerning
the promise of Christ's return. Even in the toughest
situations, an encouraging word from a friend
can make all the difference in how we respond to
challenges that confront us. How, then, can we
encourage others to keep persevering when barriers
seem insurmountable? Peter taught people how to
live as they awaited Christ's return, and Paul and
Barnabas taught people to hold fast to their faith.
Gratitude…
    " Develop an attitude of gratitude, and give thanks for everything that happens to you, knowing that every step forward is a step toward achieving something bigger and better than your current situation. "― Brian Tracy
"When you get into a tight place and everything goes against you, till it seems as though you could not hang on a minute longer, never give up then, for that is just the place and time that the tide will turn."
― Harriet Beecher Stowe
On September 20, 2009, we the Friendship Baptist Male Chorus will celebrate our 25th Anniversary. 
For this year's anniversary we are asking your male choir and musicians to come together with us in CONCERT. 
Our goal is "100 Men Singing" praises to our Lord Jesus Christ.  We feel this will make a great impact on the body of Christ with God's men uniting with harmony and love-glorifying Jesus Christ. 
This is what we need from you as soon as possible.  Give us the name of one song selection that you would like to include in the concert.  
You may give us a tape, CD, artist, or title of the song.  We will place your selection with other songs on a CD.  The CD will be given to you to listen and to rehearse during your choir rehearsal.  We will have a joint rehearsal. The "100 Men singing" rehearsal will be announced at a later date. 
For further information contact:
Evangeline           803-48-9290 ch.  Or 803-564-5290 or
 Flip                         803-640-1420
Please come and support this effort.  Also please announce this concert to your Church.  Encouraging everyone to come and be a witness and to praise our Lord and Savior.
Thank you so very much for your cooperation.  Continue to be blessed.
The Attire for this Event:
Dark Suits
Shirt & Tie
For His Glory,
Rev. T.C.Edwards, Pastor
Evangeline Muldrow-Petress, Min/Music
Flip Quiller, President
 Children's Church
Lessons for August 9-November 1, 2009
  

Unit 1:  Service

Lesson 1           Kid Serve

Power Point: God wants me to serve others. 

Lesson 2           Doing My Part

Power Point: l am part of God's plan. 

Lesson 3           Humble Hearts

Power Point:     I will serve with a humble heart. 

Lesson 4           Faithful Finisher

Power Point: I will be faithful in serving Jesus.

 

Unit 2: Evangelism

Lesson 5           I'll Tell!

Power Point: I can tell others about Jesus. 

Lesson 6           Good News!

Power Point: Jesus gives us good news to share! 

Lesson 7           Come With Me

Power Point: We can invite friends to church. 

Lesson 8           Walk My Talk

Power Point: My life's example will show Jesus. 

Lesson 9           Faith Story

Power Point: I can tell my faith story to others.

 

Unit 3: Missions

Lesson 10         God Calls

Power Point: God calls us for exciting things.

 Lesson 11         Spirit-Filled Sharing

Power Point: God's Spirit will help me share Jesus. 

Lesson 12         God Goes with Me

Power Point: I'll go with God's saving message.

 

Review:  Loving the World

Lesson 13         The Main Event!

Game-day review
Trust God, not government, Baptist convention told
BY NIRAJ WARIKOO • FREE PRESS STAFF WRITER
Despite the election of President Barack Obama, African-Americans and others still have not achieved equality, the president of the NAACP told an audience of Baptists Thursday night in Detroit.
"We're not the National Association for the Advancement of a Colored Person," said Ben Jealous, the youngest president in the history of the 100-year-old civil rights organization called the National Association for the Advancement of Colored People. "Until all of them are OK, we'll be fighting hard."

Speaking at the Detroit Marriott in the Renaissance Center, Jealous said many in the U.S. suffer from extreme poverty, racial profiling, poor schools, and a criminal justice system that he said unfairly targets minorities. And so while the election of Obama was a great event, on Jan. 21 — the day after his inauguration — "to be honest, not much had changed" for many Americans, he said.
"Dads were still out of work," Jealous said. And it was still harder for black men to get employed than white men.
Jealous made his remarks on the fourth day of the Congress of Christian Education of the National Baptist Convention USA, the biggest African-American religious group in the U.S. His speech was notably different in tone from other speakers during the convention, which stressed religious education and personal morality rather than social justice issues.
Jealous didn't talk about Christianity in his remarks, instead focusing on the struggle for human rights in the U.S. Jealous was once director of the U.S. Human Rights Program at Amnesty International.
While praising Obama for being an excellent role model for blacks, he cautioned against saying the fight for freedom is over.
"It's not enough to have great examples," Jealous said. "We got to have a plan." He said there should be efforts to make sure "all kids go to a good school." And he assailed racial profiling, saying that not only is it immoral, "it also doesn't work."
Jealous' speech was different in tone from an earlier address Thursday by a National Baptist leader. Speaking to thousands of Baptists inside Cobo Arena , the head of the educational branch of the nation's biggest African-American religious group called upon people to trust in God, not the government, during difficult times.
"I know General Motors is in bankruptcy. I know Chrysler" is facing problems," said the Rev. R.B. Holmes Jr., of Tallahassee, Fla., president of the Congress of Christian Education of the National Baptist Convention USA. "But when you put your faith in his hands…when you do this, you will find victory over fear, over doubt, over demons, over depression."
His afternoon address in Detroit focused on the importance of faith. The National Baptist group has millions of members across the U.S., many of whom gathered in Detroit this week for a five-day conference that was to draw up to 40,000 Baptists.
Holmes said: "You have nothing to lose…Take a chance on the Lord. Call on the Lord. Seek the Lord…turn to the Lord."
"The Lord, the Lord," he stressed, waving his finger at the audience. "Not the government."
Holmes' talk was preceded by several gospel musical performances that brought the crowd to its feet.
Contact NIRAJ WARIKOO: nwarikoo@freepress.com.